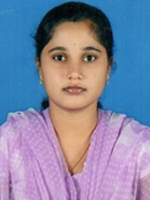 Obtained her  post-graduation from Mysore University in  the year 2013 with distinction and B.Ed., in the year 2014. Started her career as a faculty in the Department of Physics at Bharathi College, K.M.Doddi, Mandya, Joined Vivekananda Degree College, in 2016 and serving till date. Actively participated in academic activities of the college. Recently qualified in  Karnataka State Eligibility Test for Lectureship. Her in-depth knowledge in the subject made her popular teacher.
Vivekananda Degree College, Rajajinagar, Bengaluru.
Additional Responsibilities
Member in Spandhana women's wing and Eco Club.
Research Publications - National
Doing science experiments, Listening Music, Watching Cricket
Refresher Course | Orientation Course
Seminar | Conference - Paper Presentations
Seminar | Conference - Participation
Membership of Professional Bodies