Profile
The Department of Political Science was established in the year 1982 with 01 teacher and about 60 students. Over a period of 36 years, the department has grown from strength to strength. From 1985 Prof. Bhuvaneshwar prasad was working till 2014. He wrote more than 250 books, he is an instrumental to our department. After his superannuation I assume the charge of the department.
Vision & Mission
Vision: TO PROVIDE THE CONSTITUTION KNOWLEDGE 
Mission: VOTE VALUE  FOR ALL
OBJECTIVES
To create awareness about the constitution
To organize to conduct model parliament
To create awareness program about the terrorism
Motivate to the students to appear for competitive examination
Motivation of students towards value of vote
To create awareness
Strength:
Qualified and Experienced teaching faculty.
Good infrastructure facilities.
Enhancing civic sense by introducing Indian constitution as a compulsory subject for UG courses.
Future plans:
Mock assembly
Coaching center for public administration to the students preparing for civil service examination.
Planning to enter into MoU with Gandhian studies, Gandhi Bhavan, Bangalore University, Bangalore.
HOD Profile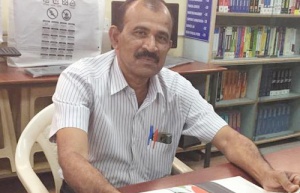 Prof. Balakrishnapp
a., M.A, BEd.,
Associate Professor & HOD
M : 9900694652
Email: 
bkpips@gmail.com
Faculty
Smt. H.P.Hemalatha, M.A.,
 Assistant Professor
M : 9449660788
E : hemalatha@vdcjes.org 
Dr.RangaswamyM.A,Ph.D.
 Assistant Professor