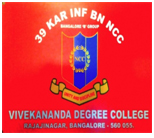 "UNITY AND DISCIPLINE"
COY 39/11 NCC Army Wing
39 KAR INF BN NCC
BANGALORE 'B' Group KAR & GOA DTE.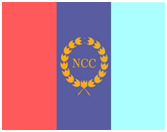 We provide unique opportunity to our college students to grow rationally and skilfully. We are making them physically as well as mentally tough through Drill, Weapon training, Map reading at Annual, State, National and International NCC training camps.
Our aim is to develop qualities as Character, Courage, Comradeship, Discipline, Leaderships, Secular outlook, Spirit of adventure, Sportsmanship and ideal of selfless services among the young students to be responsible men and women with strength of character and courage so that they become worthy citizens of the country.
NCC MOTO & FLAG
The motto of NCC is 'Unity & Discipline' which was adopted on 23 Dec 1957. In living up to its motto, the NCC strives to be and is one of the greatest cohesive forces of the nation, bringing together the youth hailing from different parts of the country and moulding them into united, secular and disciplined citizens of the nation.
In 1954 the existing tricolour flag was introduced. The three colours in the flag depict the three services in the Corps, red for Army, deep blue for Navy and light blue for the Air Force. The letters NCC and the NCC crest in gold in the middle of the flag encircled by a wreath of lotus, give the flag a colourful look and a distinct identity. Each lotus represents one NCC Directorate (Dte).The two dots represents Officer Training Academy's in India they are at Gwalior, Madhya Pradesh and Kamptee, Maharashtra.
NCC HISTORY
At the instance of the Indian National Leaders the British government decided to impart some kind of Military training to the youth in the year 1925. An organization named as University Training Corps (UTC) was established. The Corps imparted military training to the college students but its scope was very limited. The entire Bombay province had only one Battalion (BN). In 1940, the Senate of Bombay University decided to introduce military training in the university syllabus.
In 1946, the UTC was re-named as University Officers Training Corps (UOTC). Various colleges started the UOTC.
Soon after India won Independence the government set up a committee for military training among the chairmanship of Pt. Kunzru. The National Cadets Crops came into existence on 16th July, under the NCC Act of 1948 under the Ministry of Defence as per recommendations of the committee.
Under the 8 Mah.Girls BN.NCC, the girls unit of G.N. Khalsa College came into existence in the year 1984.
Enrolment to NCC is voluntary for boys and girls students of the college
During the Indo-Pakistani war of 1965 & Bangladesh-Pakistani war of 1971, NCC cadets were the second line of defence. They organized camps to assist ordnance factories, supplying arms and ammunition to the front and also were used as patrol parties to capture enemy paratroopers. The NCC cadets also worked hand in hand with the Civil Defence authorities and actively took part in rescue works and traffic control.
After the 1965 and 1971 wars the NCC syllabus was revised. Rather than just being a second line of defence, the NCC syllabus laid greater stress on developing the quality of leadership skills. The military training which the NCC cadets received was reduced and greater importance was given to other areas like social service and youth management.
ADVANTAGES OF JOINING NCC
NCC is second line of defence. NCC cadets are made to work along with armed force during the war. Being enrolled with NCC, students are directly associated with Ministry of Defence. At the end of each year cadets are entitled to get allowance.
NCC training helps student to develop qualities like Discipline, Social Services, Team Spirit, and Leadership.
NCC training camps held at different places expose cadets to Historical, Industrial places and various other Social important centres. Owing students to broaden their horizon and develop national spirit and ambition to do creative work.
NCC cadets are attached with Army units every year so that they get acquainted with the Army life.
NCC cadets are also trained for Parachuting, Paragliding and Mountaineering.
Every year under Youth Exchange Program selected cadets get the opportunities to visit foreign countries.
32 seats are reserved per course in the IMA for the cadets who have passed NCC 'C' certificate examination. NCC cadets scoring 50% aggregate marks in graduation with minimum 'B'grade in 'C' certificate examination are eligible for Short Service Commission (SSC)  NCC special entry scheme without qualifying CDS written examination. They only have to appear for the SSB interview.
NCC trained students are given priority in recruitment in Central Reserve Force and B.S.F. etc.
Central and State Govt. jobs as well as many Industries/Corporate sectors give priority for NCC cadets.
TRAINING OF CADETS
NCC was established as a second line of defence, therefore it mostly stressed on military training, particularly Weapon training and Drill. The area of activities and getting knowledge are:
General: – History, Aims, Motto, NCC Song, Administration of NCC.
Introduction to Services.
Drill.
Weapon Training: – Rifle, SLR, LMG, Stan Gun, 2" Mortar, Grenade, Pistol, Firing in NCC.
Map Reading.
Field Craft.
Army Tactics and skills.
Anatomy and Physiology of Human Body.
Hygiene and sanitation.
First Aid.
Civil Defence.
Self Defence.
Yoga.
Military History.
Adventure Training.
Citizen, Administration, Moral, Human resource Management, Leader, Leadership Traits.
ACTIVITIES
ACTIVITY REPORT: 2011
PRCN/SD/151 at Kamptee Attended by Ravi Kumar M S  from 26 sep'12 to 23 feb'13
Dec 26th to 31st 2011 at Yelahanka, Bangalore conducted by our affiliated unit was successfully completed by our cadets; here cadets learnt the different kinds of drills and weapon operation theory.
Our 63 cadets attended CATC Camp from 10th Jan to 19th Jan 2012 at Gajaladinne, Kolar. Organized by 10 KAR INF Battalion Kolar. Our cadets won prizes in various cultural and sports events conducted during camp, such as Cross Country (First Place), Tug Of War (Second Place), Group Dance (first place), solo singing (runners) and shooting (first place).
One day social service   "SHRMADANA" was organized by our unit at Gajaladinne village to educate the villagers about health, hygiene and environment.
120 Cadets of our college attended second CATC camp from 1st to 19th Feb.  2012 Organized by 39 KAR INF BN NCC Bangalore 'B' group at Soundarya institute, T-Begur, Nelamangala. Our junior under Officer Shashi Kumar of IIIBSC was awarded 'BEST IN COMMANDING AND CONTROL'. Along with our unit bagged many cultural prizes too.
On 10th March 2012 'B' certificate practical exams on 11th Mar 2012 Theory exams were attended by our cadets at Sheshadripuram first grade college yelahanka, Bangalore and secured 100% result.
120 Cadets attended CATC camp from 1st September to 19th September 2012 at Soundarya institute, T-Begur, Nelamangala. Our JUO Shashi Kumar (IIIBSC) was awarded 'BEST IN COMMANDING AND CONTROL' along with that we bagged many cultural prizes.
Three cadets(Shashi Kumar IIIBSC ,Abhilash Gowda IIBCA, Sharvani U.V I BCOM) attended RDC selection camps(IBC,Pre-IGC,IGC)
OFFICE BEARERS
2016-17:
| | | | |
| --- | --- | --- | --- |
| NCC No | Rank | Name | Class & Section |
| KAR/SD/15/250602 | CSUO | LOKESH  S D | VI BCOM A |
| KAR/SD/15/250625 | JUO | ABHISHEK  B M | IV BCOM C |
| KAR/SD/16/250617 | JUO | JAYDEEP ROY | D PHARMA |
| KAR/SD/15/250601 | CSM | SHARATH  S J | IV BCOM C |
| KAR/SW/15/250619 | CQMS | KAVYA  M | IV BCOM A |
2017-18:
| | | | |
| --- | --- | --- | --- |
| NCC No | Rank | Name | Class & Section |
| KAR/SD/15/250625 | CSUO | ABHISHEK  B M | IV BCOM C |
| KAR/SD/15/250644 | JUO | RAVI KUMAR  S | IV BCOM A |
| KAR/SD/16/250668 | JUO | GOWTHAM  K | II  BCOM  A |
| KAR/SD/15/250627 | CSM | RAGHAVENDRA  S | IV BCOM C |
| KAR/SW/15/250656 | CQMS | VANDITHA KRISHNA | IV BCOM C |
EVENTS
International  yoga day: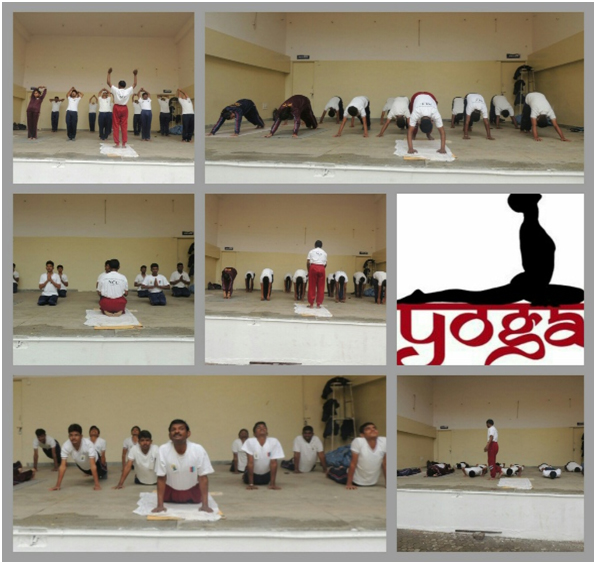 Republic Day & Catc Guard of Honour: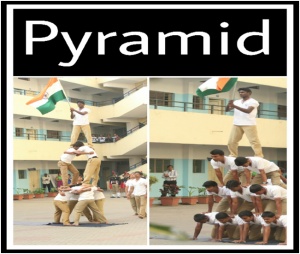 Marathon run flag drill squad:
Plastic ban awareness rally:
Republic day cane drill squad:
Digital money awareness rally:
 NCC unit of the college is also striving hard in ensuring the significance of gender, inclusion and environment and creating awareness among the students and teachers in particular and neighborhood in general. Cadets of this unit also participate in all the initiatives of the college in this direction.
College Management has initiated a number of community development activities by conducting the following programmes through NSS, NCC, Cultural Committee, etc.:
Organising regular blood donation camps.
Health check-ups & AIDS awareness programmes.
Invited surgeons from reputed Government hospitals to deliver lectures on health and hygiene awareness.
Awareness programmes on environment by Eco Club.
Rallies and Jathas were organised to create civic awareness.
Yoga classes are conducted regularly for teachers & students.
Science exhibitions are organised for school, college and public to create awareness on basic sciences.
Faculty & students of the college are actively involved in "SWATCH BHARATH ANDHOLANA" programme.