DEPARTMENT OF COMPUTER SCIENCE
To become renowned organization of computer science aimed towards producing globally competent professionals with research and innovative skills, inculcating ethical values for betterment of the society.
The mission of the Department of Computer Science is to provide quality undergraduate education in computer science so as to prepare our graduates to compete in the Global market and to contribute to the economic, scientific, and social development of the Nation through Quality, Innovative and State-of-art educational initiatives.
Demonstrate comprehension of modern software engineering principles.
Practice computer science and software engineering, understand the fundamental principles of computer science, and continue to develop their technical competencies.
Pursue advanced education, research and development, and other creative efforts in science and technology.
Lead in industry, academics, and the community.
The B.Sc Department was started in the year 1989. The department of Computer Science envisions imparting high eminence skills in software development to excel in software industry and to train the students to develop the soft skills of global standards and enhance their knowledge in information technology. The department aims at developing academically competent and professionally motivated personnel, equipped with objective and critical thinking that compassionately faster the scientific temper.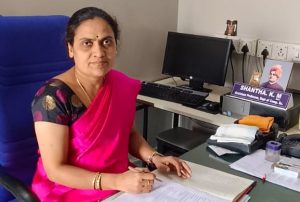 Prof. K M Shantha
MCA
HOD & Assistant Professor
 +91 9886629414
nithya2007.shanthi@gmail.com
Prof. Saumya Rao
MSc.(CS),  Mphil,  KSET,  (Phd)
 Assistant Professor
 +91 9886753689
saumyabrao@gmail.com
Prof. Aruna Nagarajan
MCA, M.Phil
Assistant Professor
 +91 9535281742
arupra412@gmail.com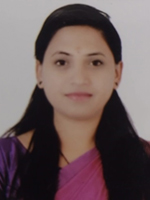 Prof. Megha D R
MTech
Assistant Professor
 +91 9945581335
meghadrm.92@gmail.com
Prof. Shailaja S
M.Tech
Assistant Professor
 +91 9591029162
sidhi545@gmail.com
Ensuring academic excellence and at the same time understanding the subject and appreciating the beauty of science.
To ignite scientific temperaments and motivate them to go for higher education and excel in the chosen field in science academia.
To achieve their goals without compromising on values and by being a law abiding citizen.
To carry the torch of science education further.
Determination of heavy metal contamination in commercially available Turmeric powder in Bengaluru.
Pollution due to automobile vehicle service stations of Bangaluru environment especially water bodies.
To establish research centre for commerce as majority of the teachers are doctorates so all so guiding research works in other universities
To introduce certificate courses in ERP solutions, taxation sales management etc.
Training centre for professional courses such as CA, ICWA, ACS etc.
To prepare the students for various competitive examinations like KAS, IAS, IRS, IPS. CA, ACS, and ICMA, etc.,
To create more awareness for students in research area.
The majority of the students are from rural background. So, it is a big challenge for the faculty to create.
Upgrading the department with research facilities.
To Organize UGC sponsored seminars, workshops and conferences.
To Strengthen Institution-Industry interface for the projects and job-oriented benefits of the students.